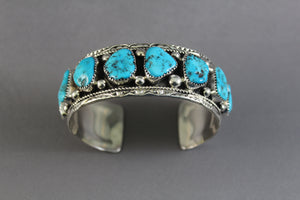 Vintage Style Sleeping Beauty Cuff
This classic cuff is set with 8 beautiful Sleeping Beauty turquoise stones. The stones themselves are free-form cabs, which gives the bracelet its vintage sixties look. 
Measures 5 ¾" inner diameter (14.7 cms), 1" wide (2.5 cms), with a 1 1/8" (2.7 cms) opening. This bracelet can be flexed safely to adjust.
 Artist: Marie Thompson (Navajo)