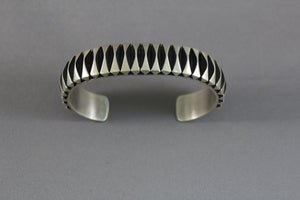 Contemporary Shadowbox Bracelet
This amazing bracelet utilizes old techniques for completely contemporary look.  Its satin finish only enhances the contrast between the highs and lows, resulting in a bracelet that will age into a cherished piece for any collection.
Measures 5 ¾" inner diameter (14.7 cms), 5/8" wide (1.5 cms), with an 1 3/8" (3.6 cms) opening. This bracelet can be flexed safely to adjust.
 Artist: Leander Tahe (Navajo)